House painting in Calgary is considered the most important home maintenance process that you will need to consider for enhancing the beauty, look and functionality of your building process. Therefore, you must go ahead with exterior house painting so that you will no longer have to deal with any issues with the look of the building. When you find that the exterior painting is fading and peeling, you must get a fresh coat of paint in your home as it is the best way of transforming the look of your home. Therefore, you must determine how much it costs to paint a house exterior to decide whether or not you should go ahead with the painting project without having to deal with many expenses. It would be best to estimate the cost of painting your house to be prepared financially for the painting procedure and be ready to spend money on these expenses. Along with choosing the painting contractors, you will need to select the right colour for the exterior house painting job according to your personality and design personality so that you can give a fresh sheen to your home in an effortless manner.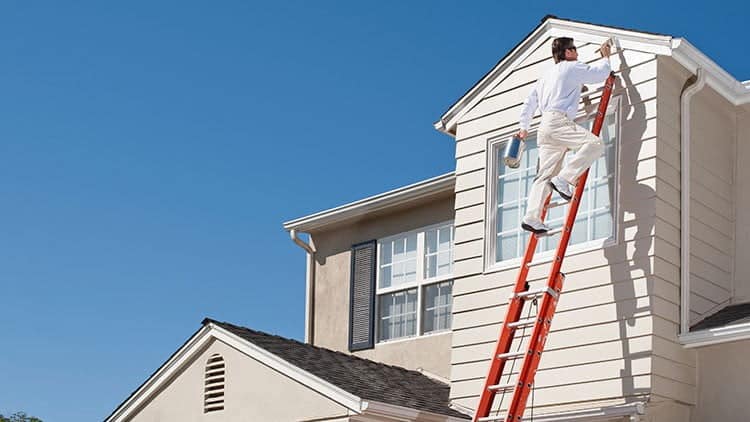 House Exterior Painting Costs

Exterior painting costs less than interior painting. Still, exterior house painting is a cumbersome and time-consuming process as you will need a ladder pulley system and scaffolding equipment for completing this painting project.. The average cost of painting the exterior of your home can be anywhere from $1,900 to $6,900. This cost is dependent on many factors that add to the total cost of the painting project. The different aspects include the number of storeys, condition of the house, exterior size, number of doors and windows, siding material, prep work, labour charges and repair tasks. But the labour charges account for about 70% to 80% of the total exterior house painting costs, and hence you need to keep in mind all these charges before hiring a painter to offer you the best quality services. The second notable cost is the cost of materials used in the painting project, and the quality of the paint and other materials that you choose will determine the total costs.
Your Options for House Painting in Calgary

As the temperatures change, stucco has a tendency to expand and contract in response. This can result in chipping and Moreover, you will need to choose the right painter for house painting in Calgary based on experience, skill and workmanship so that you will be able to hire an expert for your project. There are many other factors that you will need to consider because the quality of paint you choose will directly impact the overall painting project. Some brands come with lifetime warranties, and they will remain in excellent condition for many years to come.


---

Golden Trowel Stucco has been providing Calgary homes and commercial properties with top-quality stucco services. For the past 20 years, we have been the number one stucco contractors in the Calgary and Greater Calgary area. We can completely change your property for the better with our stucco services, including stucco installations, stucco and exterior painting, and stucco repairs in Calgary. We're flexible and ready to help you when you need it. Call us at 403-891-5343 anytime.